Coffee and honey combination is a great hack for natural beauty. Coffee carries riboflavin, pantothenic acid, manganese, potassium, magnesium, and niacin. Similarly, honey contains ascorbic acid, pantothenic acid, niacin, and riboflavin. Also, honey includes minerals such as calcium, copper, iron, magnesium, manganese, phosphorus, potassium, and zinc. These nutrients help to work great on your skin after using coffee and honey face mask.
The coffee and honey face mask is effective due to its antioxidant, anti-inflammatory, and antibacterial properties. It helps to maintain the tone and condition of the skin. Also, it provides protection against sun rays or UV rays damage onto your skin. The combination of these ingredients (coffee and honey) works better than cosmetic products. The exfoliation of the skin due to the coffee and honey face mask is more effective, more beneficial, and more helpful for the skin than other products. It contains such nutrients that can heal your skin disorder easily and faster.
Remedies Of Coffee and Honey Face Mask
It is easy, simple, less time-consuming, and the cheapest face masks comparatively to others. You just need to follow the instructions given below on a regular basis to improve your skin issues.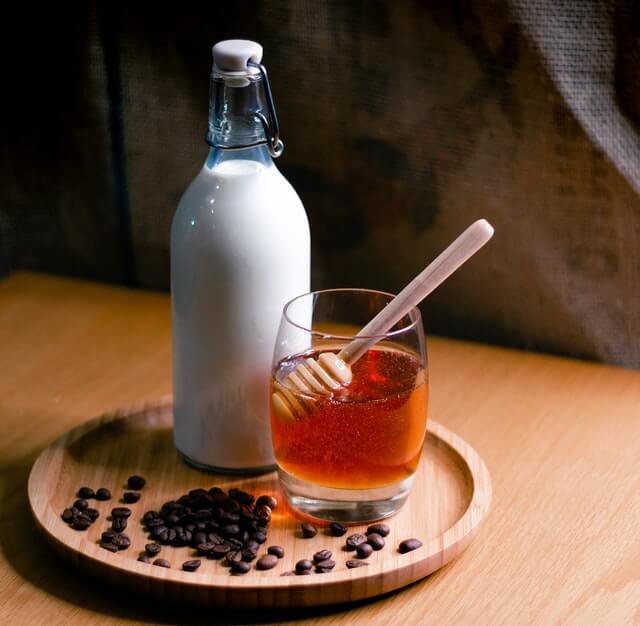 Ingredients:
Honey
Organic Coffee
Lemon Juice
Raw Milk
Instructions:
Take 1 cup of milk, 1/ cup of organic coffee, 1 tablespoon of honey, and 1 tablespoon of lemon Juice.
Then, blend them properly into a bowl. Make a smooth paste of all these ingredients.
After that, apply the face mask onto your face and neck.
Gently massage your face in a circular motion to exfoliate your skin.
Let it sit on for at least 20 minutes.
Later on, clean your face using a soft clean cloth.
What are the Benefits of Applying Coffee and Honey Face Mask?
There are several benefits of coffee as well as honey on its own. But the combination of coffee and honey face mask has amazing benefits that none of the ingredients contains. The benefits of these ingredients on your face or skin work for a long period of time.
Coffee and honey face mask helps to reduce all the dead skin cells and free radicals from your skin.
It contains antioxidant agents that can help to reduce clogged pores of the face.
It protects your skin from sunburn and UV rays damages.
This combination stimulates softness and smoothness of the skin.
The face mask may help you to reduce inflammation effects.
Also, it enhances the immune system, blood circulation, and blood vessels of the face.
Is Coffee and Honey Good for Acne?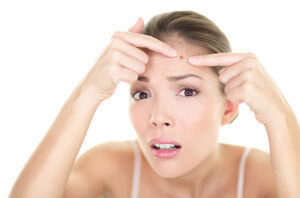 Coffee and honey face mask carries antioxidant and anti-inflammatory compounds. It works to reduce swelling, irritation, and skin disorders. You just need to mix 2 tablespoons of honey and ½ tablespoon of coffee in a bowl. It is better if you use your own or buy some ground coffee. Then apply to your face and rub your face in a circular motion. Later on, clean your face after 15 minutes. It will help to reduce acne and blemishes from your skin. This face mask also helps to reduce scars and stretch marks.
Can Coffee and Honey Face Mask Remove Dark Spots?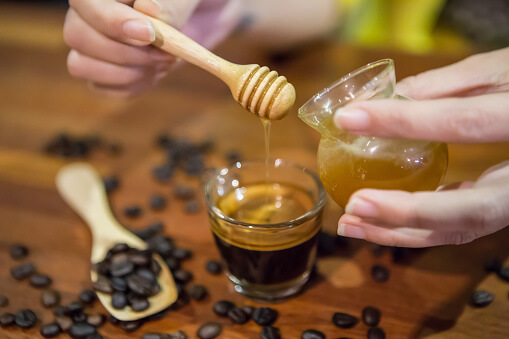 Coffee and Honey face mask is a great exfoliator. It can reduce dead skin cells, dark spots, and pimples from your face. The excellent nutrients help to clear all the blemishes, impurities, and dirt of the face. You need to mix coffee, honey, and brown sugar to exfoliate the skin. This scrub removes all the dirt of the skin. Massage your skin or rub your face using this coffee and honey scrub in a circular motion for 5 minutes. Then clear your face with a clean cloth. It will provide you a flawless skin.
How can I Get Clear and Glowing Skin?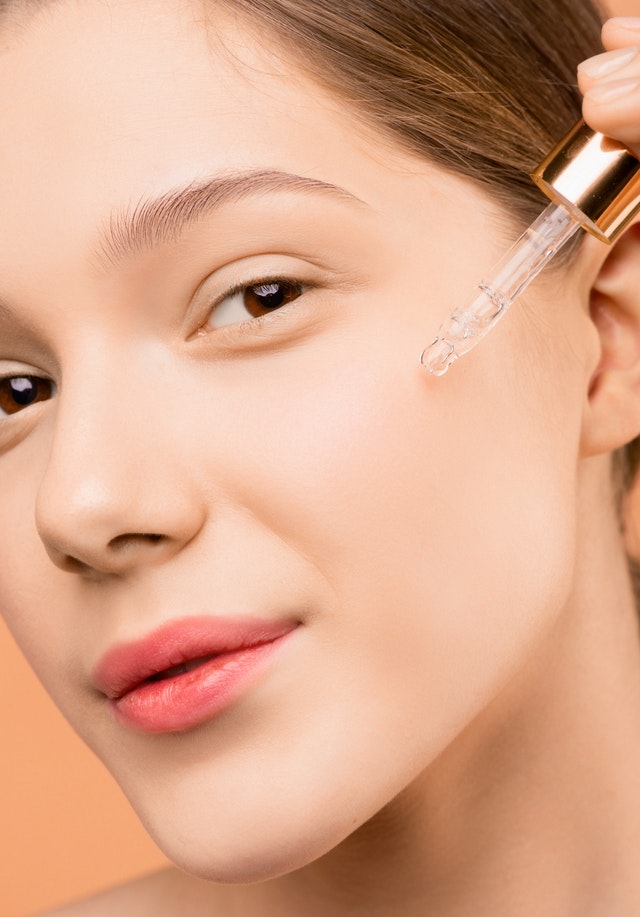 Every people want glowing and clear skin. For that, you need to use coffee, honey, and lemon juice. These ingredients help to moisturize and dehydrate your skin. Even if your skin is dry, it will help you to get rid of it. Just apply the mixture and let it sit on your face for 15 minutes. It will surely provide you an instant glow onto your face. Also, it may provide the tighten skin without any dirt and pores in it.
These pieces of information and instructions actually help you to get flawless and clear skin. The combination also helps you to get soft and smooth skin. You need to follow these instructions about coffee and honey face mask twice in a week for the best result.
Related Posts:
Skin Types: Oily, Dry, or Normal? How to know your skin type?
Egg White and Tissue Mask: How to make Egg White Face Mask at Home