A foamy, fragrance-free, mild gel cleanser is CeraVe salicylic acid Cleanser. Its formulation excludes parabens, and everyday usage won't harm the skin's protective barrier. After rinsing off and exfoliating to help remove dead skin, the CeraVe SA cleanser does not leave the skin feeling tight. Appropriate for skin that is dry, red, harsh, and bumpy. strengthening the skin's defenses and moisturizing the skin. MultiVesicular Technology [MVE] for moisturizing and continuous hydration is used in the Cerave line of products.
One of the key components of acne treatments, like cleansers, spot treatments, and pimple patches, is salicylic acid. It is a chemical exfoliator that aids in controlling sebum, hence minimizing acne outbreaks. For people with oily, acne-prone skin, Cerave salicylic acid Cleanser is a face and body cleanser.
Cerave salicylic acid cleanser is a powerful exfoliating cleanser since it contains both polyhydroxy acid and beta hydroxy acid in its formulation. The popular drugstore skincare line CeraVe has a variety of excellent products for people with oily, acne-prone skin, including the CeraVe salicylic acid Cleanser. Here is all the information you need to know about this well-liked cleanser.
Product Overview
Salicylic acid serves as the primary active ingredient in the CeraVe SA Cleanser, a product for cleaning the face and body. Salicylic acid can potentially cause the skin to become dry, however, the CeraVe salicylic acid Cleanser also contains hydrating elements (such as ceramides) to prevent any dryness. It becomes a powerful yet non-drying composition for skin exfoliation with the addition of a polyhydroxy acid. This cleanser can be used for a few different conditions that damage the hair follicles in addition to acne.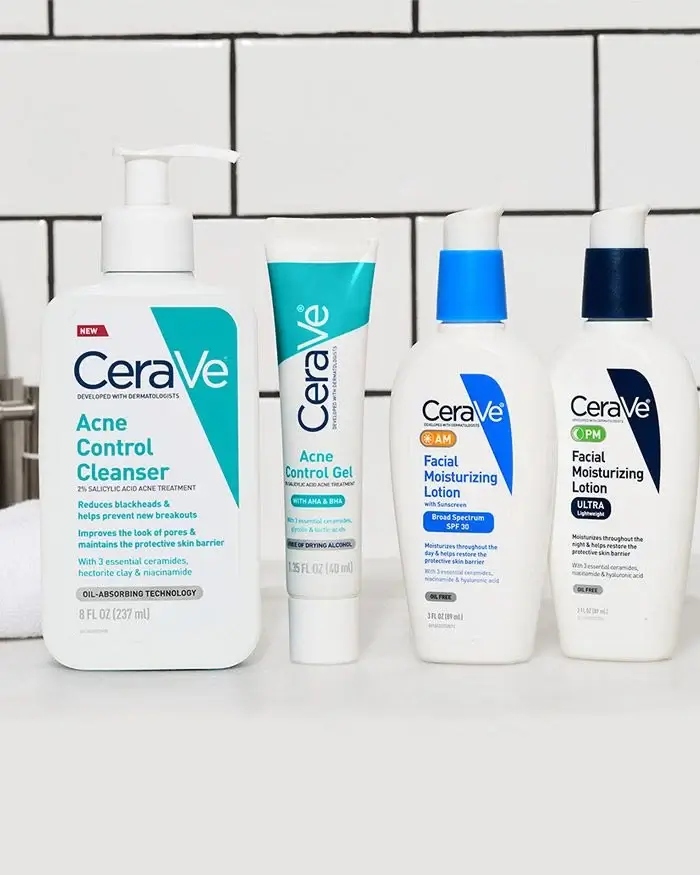 According to the product, cleansing successfully reduces acne outbreaks by removing debris and sebum. With no abrasive microbeads (a type of physical exfoliation that can irritate the skin), it aims to give non-irritating chemical exfoliation. Cerave salicylic acid cleanser makes the claim that ceramides, niacinamide, and hyaluronic acid will help preserve the skin's natural barrier.
Key Ingredients of Cerave Salicylic Acid Cleanser
1. Salicylic Acid
A beta hydroxy acid (BHA), salicylic acid is often used in acne cleansers and lotions. It is an exfoliating chemical. Salicylic acid has comedolytic properties. Comedones, which are blackheads and whiteheads, are cleared out by dissolving sebum and cell debris deep within the pores. Cerave salicylic acid cleanser minimizes their appearance by making the pores look smaller because it empties them out.
2. Gluconolactone
Salicylic acid is actually listed lower on this product's component list than gluconolactone. Gluconolactone, a less well-known chemical exfoliant, is a member of the polyhydroxy acid family (PHAs). Alpha hydroxy acids (AHAs) and PHAs both have exfoliating and skin-rejuvenating properties. When compared to AHAs, polyhydroxy acids have the benefit of having lesser risk of causing irritation. They are therefore especially suitable for acne-prone sensitive skin.
3. Niacinamide
Many skin care products, such as creams and face washes, include niacinamide, which is frequently used to treat acne. Here, Cerave salicylic acid cleanser primarily functions as a calming agent, reducing the redness and inflammation brought on by acne.
4. Other Ingredients
Ceramide NP, Ceramide AP, and Ceramide EOP are three separate ceramides present in the product to assist in re-establishing the skin's natural barrier. Ceramides are one of the key constituents of the skin's natural barrier and are typically found in the skin's outer layer. Hyaluronic acid and glycerin are used as moisturizing agents. Cerave salicylic acid cleanser contain humectant and emollient qualities.
Benefits of Cerave Salicylic Acid Cleanser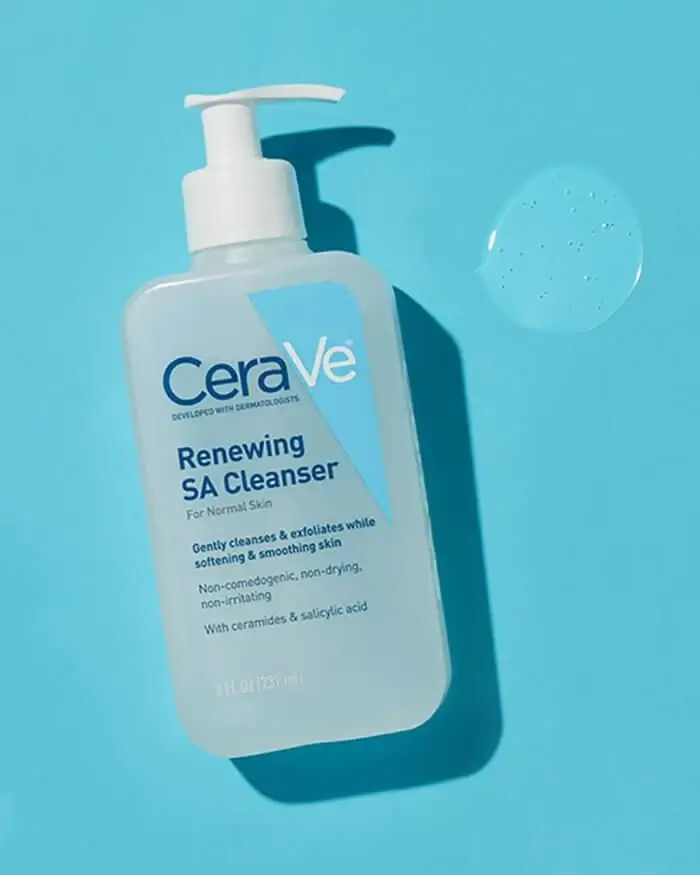 This cerave salicylic acid cleanser is effectively cleaned to get rid of grease and filth.
Salicylic acid aids in exfoliating to reveal soft, smooth skin.
vitamin D, an antioxidant, is added.
The ceramides in this salicylic acid cleanser from Cerave aid in restoring and maintaining the skin's protective barrier.
This cleanser's hyaluronic acid aids in keeping the skin's moisture content natural.
Niacinamide aids in skin calmness.
Cerave SA cleanser has undergone allergy testing and is absolutely devoid of aroma.
Skin specialists created this salicylic acid cleanser.
Best Cerave Salicylic Acid Cleanser
CeraVe Renewing SA Cleanser
When you cleanse with CeraVe Renewing SA Cleanser, a salicylic acid cleanser improved with barrier-restoring components like ceramides, you can help keep irritations out while keeping moisture in. Without using harsh microbeads that could irritate your skin, CeraVe Renewing SA Cleanser exfoliates your skin gently and without causing any irritation.
CeraVe Hydrating Cleanser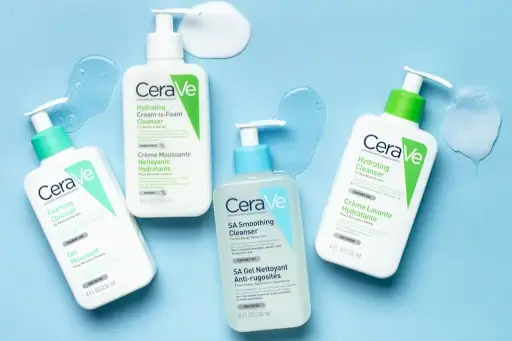 For normal to dry skin, the CeraVe Hydrating Cleanser 236ml is a cream cleanser developed with ceramides and hyaluronic acid. This Cerave dry skin cleanser is creamy in texture, nutritious and kind to the skin, doesn't lather at all, and never dries it out. If you have any skin sensitivities, rosacea, skin irritations, or a compromised skin barrier, it will also be an excellent option for you.
CeraVe SA Smoothing Cleanser
The 0.5 percent salicylic acid or SA in the CeraVe SA cleanser, also known as the CeraVe SA smoothing cleanser and Cerave SA cleanser, is intended to gently wash the skin while simultaneously giving a light chemical exfoliation. A beta hydroxy acid, salicylic acid is excellent for removing blackheads and unclogging pores on the face and body. Urea, a humectant, also aids in keeping moisture in the skin.
CeraVe Hydrating Foaming Oil Cleanser
The gentlest cleanser offered by CeraVe is called Hydrating Foaming Oil Cleanser 236ml, although this isn't a genuine "oil cleanser" that you would use as your first cleanse, so the name is a little misleading. Sensitive skin types can still experience that foamy feeling without drying out thanks to this product, which feels much more like an oil version of their foaming cream cleanser. The foam barely registers as foam; it's incredibly delicate.
How to Use the Cerave Salicylic Acid Cleanser?
First, apply lukewarm water to the skin. A dime-sized amount of cerave salicylic acid cleanser should be gently massaged in circular motions into the skin. Finally, carefully rinse it off. Not too roughly scrub or rub the skin. Apply your moisturizer or any acne spot remedies right away. This is quick to produce results and very simple to use.
Surprising Benefits Of Hyaluronic Acid On Skin!
Everything You Need To Know About Salicylic Acid
10 Best Hair Sunscreen for You
3 Benefits Of Apple Cider Vinegar and Honey
9 Amazing Benefits of Chemical Peel