Ginger is a herbaceous perennial. It is known as spice and folk medicine all over the world. Ginger contains Vitamin B3 and B6, iron, potassium, vitamin C, magnesium, phosphorus, zinc, and folate. It is very beneficial for skin, hair growth, and health conditions also. Similarly, it plays a vital role in hair growth. Combining ginger for hair growth in any natural ingredients can help to improve hair conditions. Ginger juice may help in stimulating hair follicles and promote healthy hair. The nutrients and fatty acids present in ginger help in making your hair strong. It strands to reduce hair loss. It also contributes to restoring the excess moisture loss in hair and scalp.
The following remedies and benefits of ginger for hair growth may help to get your hair longer and strengthen. It also helps to get shiny and silky hair.
Some Amazing Benefits of Ginger for Hair Growth
1. Promote Hair Growth
The vitamins and fatty acids of ginger help to stimulate hair follicles. The application of ginger juice helps in blood circulation and promotes hair growth. Ginger also helps to maintain the excess moisture on hair and scalp. The use of ginger juice contributes to healthy and long hair.
2. Reduce dandruff
Using several shampoos and hair conditioners may increase dandruff instead of reducing. Sometimes natural treatment can do this honor. Ginger has the capacity and the nutrients to eliminate dandruff from hair and scalp. It also helps to get rid of frizzy hair and provides silky hair.
3. Condition Hair
The natural conditioning benefits of ginger protects your hair from being damaged. It has antioxidant that helps to conditions your hair. Ginger contains the oil to hydrate the hair and give a unique shine to the hair.
4. Reduce Hair Loss
The vitamins, minerals, and fatty acids work to reduce the continuous hair fall. It stimulates the hair follicles and makes your hair strong. The antioxidant in ginger makes the scalp and hair healthy. Also helps stimulate circulation to healthy hair.
5. Prevent Split Ends
Many people are suffering from split ends. They try every chemical product to treat split ends. Ginger can help to get rid of split ends of the hair. Use fresh ground ginger juice in a spray bottle before washing your hair. It helps to get rid of split ends and helps in detangling your hair.
Remedies of Using Ginger For Hair Growth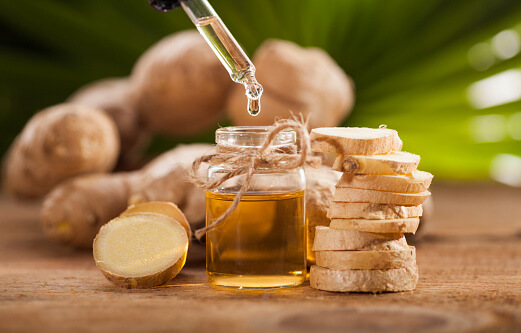 Ingredients:
Fresh Ginger Juice
Olive Oil or Jojoba Oil
Tablespoon
Bowl
Instructions:
First of all, mix 1 tablespoon of ginger juice and olive oil together in a bowl.
You can also add jojoba oil instead of olive oil.
Then, apply the mixture into your scalp and hair.
Slightly massage the ginger and olive oil into your scalp in a circular motion for at least 5-8 minutes.
Make sure that the oil deeply penetrates into the scalp. It helps to make the hair root strong and healthy.
Leave the mixture into the scalp for 30 minutes.
Later on, rinse off the hair with shampoo.
Only use these remedies to promotes hair growth and healthy hair before washing your hair.
Using this method once a week promotes hair growth.
It stimulates the blood circulation of the scalp. following this remedy helps to reduce dandruff and split ends. This ginger treatment for longer hair helps to cleanse and clear all the hair follicles and unclogged dirt. It helps to hydrate the scalp and roots of the hair. This method is easy, affordable, and beneficial for your healthy hair. The best part is it is the natural treatment and it doesn't have any side effects.
Can I Mix Garlic, Onion, and Ginger for Hair Growth?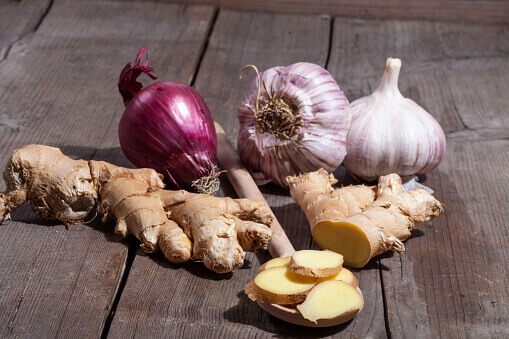 Mixing onion, ginger, and garlic together is not harmful to hair. The combination of garlic, ginger, and onion has anti-inflammatory properties which help to reduce dandruff also. It doesn't only work for hair growth, it also works to reduce hair fall and inflammatory effects. You need to just grind the half onion, 5 cloves of garlic, and ginger in a grinder. Then, strain the juice into the bowl using a strainer. After that apply the juice on your whole scalp. Massage your scalp for 5 minutes and leave it for a minimum of 20 minutes. Later on, Rinse off your hair with a mild shampoo.
Using all these above remedies helps to maintain your hair conditions. It helps to get shiny, silky, and strong hair. And of course longer hair also. Use these remedies once a month or week for the best results.