Orange Peel off Mask Benefits: Get Healthy Skin at Home
Everyone's favorite fruit is orange as it tastes amazing, it has beneficial properties for our skin even on its peel off. They are high source of vitamin C which is an essential need for our healthy skin growth. It helps in lightening skin. When we talk about orange peel off mask benefits, they truly are magical for our skin. So let's start how we can take more benefits from orange peel off mask
The ultimate benefits of orange peel off mask :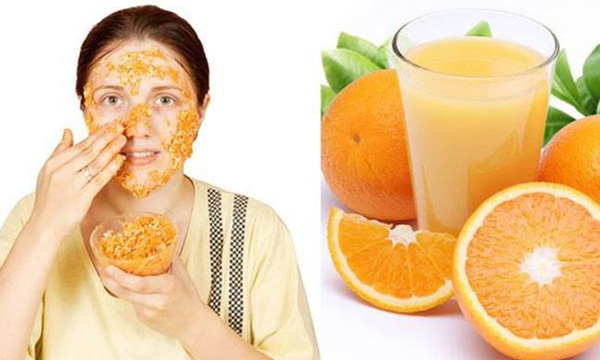 Orange peel contains nutrients like Vitamin C (Fights Acne), Calcium (Regenerates Dead Skins), Potassium (Moisturizes Skin) and Magnesium (for glowing skin).
The antioxidants properties of orange help to protect skin from acne, scars and any kind of skin damage, helps in skin tighten.
It helps to stimulates blood circulation on skin.
Orange peel off has power to regenerate new tissue.
It helps to exfoliate deep dirts and dead skin cells.
You can use orange peel or mask regularly to keep you fresh and brighten your skin.
Orange peel contains the vitamins that our skin need to maintain the balance and keep skin tissue working properly.
You can called orange peel of mask as golden peel of mask or magical mask for your skin.
Increases skin complexity, clear your skin many more.
Moreover, using it on a regular basis is better than using it twice a week or alternative days because a peel or mask stretches your skin. You can use it on behalf of a charcoal mask. Orange peel off mask contains more vitamins and works unbelievably. This peel of mask contains antibacterial and antimicrobial properties which cures in fighting against acne and oily skin.
You can use an orange peel mask, adding fresh mint leaves and making a paste to apply on your face. Many companies had adopted orange fruit in producing many beauty products because of incomparable qualities to enhance one's beauty. We can call it a secret of beauty as well.
Like there are some beauty products which are named as peel off masks and work also like ever youth orange peel of mask. It stimulates blood circulation for the skin which helps skin to function and regenerate new tissues for skin, removes dead skin cells and dirt from your skin.
You can make orange peel off mask at your home as well let me make you know the step to create natural and fresh orange peel off mask as well because it will be more beneficial than the one you buy from market :
Don't throw the outer cover of orange, just keep in sun-rays until it's dry
After that blend in mixture take out in form of powder
Add few drops of water ,mint leaves and few drops of Aloe Vera
Mix it well in proper peel off form as the layer should be like the way shown for peel off mask
Than you can apply on face
Like people usually use a peel mask for wedding, parties and any other event but you can use it on a weekly basis.
Can I use an orange peel mask everyday?
Yes orange peel masks can be used everyday on  skin. It is a natural ingredient. It's secret of beauty because of its valuable minerals and vitamins which help in growth and functioning of skin.
Nourish your skin, soften and brighten it, keep it healthy and make you feel best. You can try out this beauty secret for the best and best result you were waiting for long .Keep shining by the use of an orange peel or mask.
How can I use orange to whiten my skin?
Time needed: 25 minutes.
You can use orange peel in many ways to lighten your skin .
Mix turmeric powder and raw milk with orange peel.

Apply them and keep it for 20 min on your skin and remove them by washing with the normal water.

Honey, Aloe Vera gel and gram flour

Apply them and keep it for 10-20 min on your skin and remove them by washing with the normal water.
You can use these ingredients with orange peel and apply the mask on your face. Which helps you in whitening your skin tone. Make sure you apply them regularly.
Frequently Asked Questions:
Can orange peel burn my skin?
No, orange peel doesn't burn your skin because it contains citric acid to avoid the burn on your skin. It works great for your skin. Helps to lighten your skin, formation of new skin cells and balances a healthy skin look.
Orange peel lighten your skin by mixing turmeric powder, raw milk and orange peel powder mix all the ingredients together .
Apply this mask daily on your face
Leave it for 20 minutes on your face
Wash your face .
You can feel the magic within a few days after applying this mask. Feel safe to use this mask because it has no side effects for your skin.
Is rubbing orange peel on your face good?
Yes, Rubbing orange peel is good for our skin. The presence of vitamin C can help to protect your skin against harmful bacteria. It moisturizer your skin, gives your fair complexity.
You can rub with orange peel everyday.
You can mix raw milk and rub because it works as a natural cleanser and cleanses all the parts present inside.
But better than rubbing you can grind the peel and apply on your face because rubbing hard can make your skin rough.
How does orange peel remove dark spots?
Orange helps to remove dark spots by adding some natural ingredients .
To remove dark spots you need to add orange peel, a teaspoon and apple cider vinegar mix and apply on your face.
You can add buttermilk for removing the dark spots.
Add castor oil.
Adding these ingredients with orange peel can help to remove dark spots of your skin.
Can I put orange peels in my bath?
Yes, We can use orange peel on your bath without any worries because it helps to lighten your skin. You can use it as body scrub by mixing sugar and olive oil. You can also use it by adding coconut oil with orange peel in your bath. It helps in lightening your body and keeps you fresh.
Can we use orange peel directly on the face?
No, it would be great if you can add orange peel with other natural ingredients before it's direct contact to your face because peels contain more vitamins C than orange itself. Its better option would be using natural ingredients with it.
Which orange peel powder is best?
Home cultured orange peel powder is best for skin. Natural orange peel without any chemicals and safe to use for skin.
Does Orange lighten skin?
Yes, oranges lighten our skin. Oranges are rich in antioxidants, fibers and vitamins which help make our skin shiny and glow.It removes the blotches from the skin. The antimicrobial properties can remove the blemishes and dark spots from your skin.
Can Orange cure pimples?
Yes, oranges are beneficial for curing pimples. It is a powerhouse of vitamin C which is responsible for removing the pimples, acne and excessive oil from our skin. Oranges are the best natural medicine to protect our skin from harmful bacteria and keep our skin healthy and beautiful.
How does orange peel get rid of pimples?
Orange peel can help to get rid of pimples as it's full of antioxidants which have antibacterial properties that also works to reduce pain and swelling of pimples. It stops forming spots as well.
Using orange peel with following procedure can help to get rid of pimples:
Mix orange peel powder with Lukewarm water
Apply on your face
Leave it for 20 minutes
Wash with warm water
Can we apply orange peel powder daily?
Yes, we can apply orange peel powder daily. It contains valuable vitamins sources daily use of it can slowly demise the problems of your skin. You can feel the magic and change within few days and weeks.