A piece of art, with perfectly winged eyes, needs talent and perseverance. And if you're a beginner, mastering double-winged eyeliner looks should be at the top of your list of priorities. But do not worry. We are here to solve all your problems with you in on everything! Perfect wings give your eyes drama. They make you look more attractive and elegant and draw attention to your facial characteristics. Shaky hands, though, can prevent you from pulling off the look.
It takes time to become an expert at applying eyeliner; it's not a sprint. However, there is one significant reason to continue: You'll be able to start creating original looks like this summer's double-winged eyeliner looks trend after you can draw a clean, even cat eye or sightline liner with a steady hand and no touch-ups. Currently, double-winged eyeliner looks are fashionable for many different reasons. It conveys so much contrast: it's sensual and glamorous, but it also conveys strength and demonstrates one's mastery of makeup techniques.
Some of the trending double-winged eyeliner looks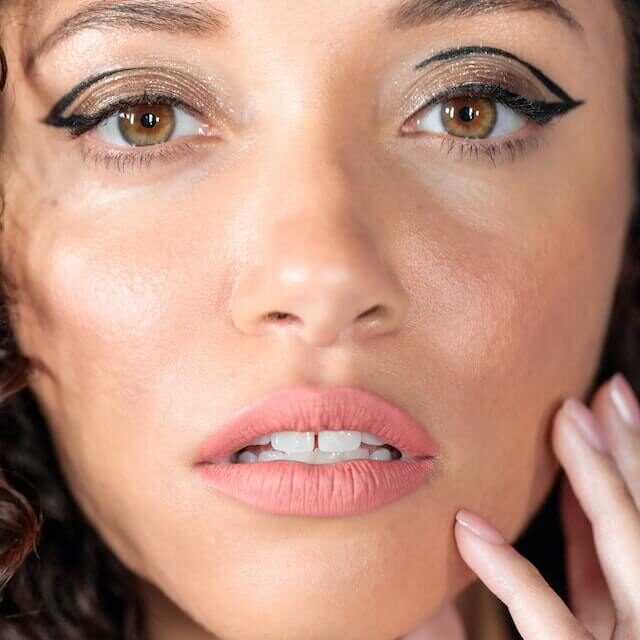 Lace
There are many different variations of double-winged eyeliner looks, but this one with the lace detail is the cutest of them all. Apply your winged liner look to the lash line, and then use your imagination to add whatever finishing touches you choose. The abstract lace pattern above the crease grabs all the right kinds of attention.
Negative Space
Simple is best for this daring appearance. Simply draw two gentle lines, one along the top lash line like a classic cat eye and the other gently arching over the cut crease, as Yara Shahidi does in this photo. Use a lengthening mascara to make your eyes sparkle and become more open.
Stacked Lines
Create a layered double-winged eyeliner looks effect with a black base and a stronger eyeshadow hue applied on top for a pop of color. With this double-winged eyeliner looks in black and white, Rihanna accomplishes just that. Feel free to experiment with alternative color combinations if this classic combination doesn't suit your skin tone or eye color.
Detailed Design
Double-winged eyeliner looks are made much more intriguing by adding designs to it. You are free to play around with any pattern once you have applied your liquid liner on the lash line. Creativity is encouraged by this unique fashion.
Make It Sparkle
When it looks as amazing as it does here, adding glitter to your double-winged eyeliner looks definitely doesn't hurt. Choose a liner with a shimmery sheen built in, or add glitter after you've applied it. Just make sure the formula is creamy so it will adhere.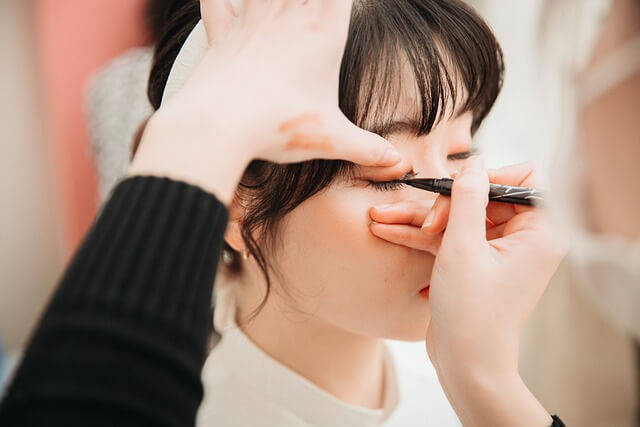 Colorful Wings
Double-winged eyeliner looks are available in a variety of styles and hues. Wear a bold wing right above the crease of her eye in this instance, and combine it with winged liner along the upper and lower lash lines. The royal blue liner truly stands out when the waterline is traced in black and the wings are painted white.
Outer V
With this extra-bold style, lean into the drama of it all. Create a pretty thick winged line first (don't be afraid to go all out!). Finally, add a surprising finishing touch by going back and very lightly drawing a thin, delicate line that slopes downward from the outer corner of the eye. The extra second wing in this double-winged eyeliner looks is what will make everyone stop and take a second look, even if the thick line is undoubtedly the star of the show.
Smoky Split Wing
Usually, the lines in this eyeliner technique are extremely crisp. However, put down the liquid liner and pick up a soft gel liner instead. The wings should be curled so that they point in different directions as you swipe the pencil along the upper and lower lash lines. Then, very lightly blur the lines and smooth out the jagged edges with a Q-tip or makeup smudger.
Micro Gap
Want to sample this craze without buying a bunch of stuff? Try starting your lines at the middle of the eye rather than all the way at the inner corners of the eyes. By doing this, you can try out a double wing while also helping to open up the eye area. You might even try dabbing on a little white or champagne-hued eyeshadow to create a highlighting effect on the inner eye that you left without liner.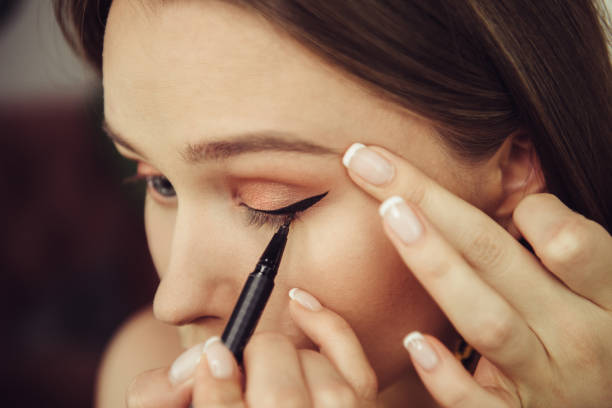 Winged Eyeliner With Tape
Along with mending your broken items on a regular basis, cellophane or scotch tape may also be used to create flawless winged eyeliner. Cut a piece of tape the length of two centimeters, and position it so that it runs along the outside of your eyes at the angle you choose for your wings. Using the tape's contours as a guide, trace the angled edge with eyeliner to create the wing. Finish by extending the line down your upper lash line.
Perfect Winged Eyeliner With Spoon
Go to your kitchen and grab a spoon to create the ideal winged eyeliner you've always wanted. A fantastic tool for guiding crisp and precise wings is the spoon's curvature and straight edge on the handle. The outside corner of your eye is where you should hold the spoon handle. Following the handle's line, draw a straight line with your eyeliner. You should now cup your eyes with the spoon's rounded end. The curving tip of your wing is made using the rounded edge. Apply eyeliner, as usual, extending it to your upper lash line where you typically would, and filling in the area between two lines.
What's the difference between winged and cat eyeliner?
Only the top lid should be lined with a wing liner, which is a straight line with a flip at the end. To create cat eyes, use liner similarly to how you would for a winged style. Next, fill in the lower half so that it joins to the lower lash line, this should create a perfect and straight triangle shape.
9 Best Vegan Mascaras for your Eyes
Do eyelash growth serums work?