The world has long been inspired by South Indian ladies' traditional bridal makeup styles. A lot of North Indian brides are attempting to emulate their radiant cosmetic appearance. We are also astonished by how wonderfully South Indian makeup looks applied. It appears so effortless and natural. On the skin, it feels like a feather and doesn't appear cakey. A south Indian bride is distinguished by her south Indian makeup look, which consists of flowing silk sarees in cheery hues, substantial gold jewelry, and lovely hairstyles.
Any girl's wedding day is the most special and significant day of her life. For your big day, these straightforward south Indian makeup looks are really helpful. All females begin dreaming about this from a young age, it is a known fact. A bride wants to look her best on this auspicious day because she will be the center of attention at the wedding. It starts with picking out the ideal wedding attire, accessories, haircut, and ideal makeup. All of South Indiana are aware that weddings are a visual pleasure.
Like a south Indian bride herself, south Indian makeup look trends are lovely, distinctive, and timeless. Due to its beauty, even the majority of brides use this south Indian makeup look. With their traditional dress, these south Indian makeup looks have always been an inspiration to the globe.
Some of the beautiful south Indian makeup looks
The bronze effect
These brides have a bronze color applied in such a way that it magically matches their skin tone. Their skin glows when the proper amount of highlighter is applied in the proper location on the face. We adore how the brown makeup and sharp eyeliner let their eyes speak for themselves.
Acing the no-makeup look
You must observe a bride and learn how to carry off a natural south Indian makeup look. Just take a look at these stunning women; they beautifully nailed the natural bridal appearance. They appear to have worn only the most basic eyeliner and lipstick for the wedding, which is why they appear so content and cheerful. To allow your natural beauty to show through in this striking makeup look, go for the no-makeup option.
This south Indian makeup look is soft, natural, and stunning and is ideal if you want to highlight your beautiful and luminous complexion without covering it up with bright hues. A soft pastel-toned Kanjeevaram saree and delicate jewelry would perfectly finish your ensemble and bring out your inner princess.
Let them blush a bit
We adore the way these brides from South India are blushing as they approach the altar. These brides look stunning in a subtle, soft pink bridal makeup style that they chose for their wedding. For the big day, the makeup artist has added just a touch of blush to draw attention to their cheekbones.
Glow in Gold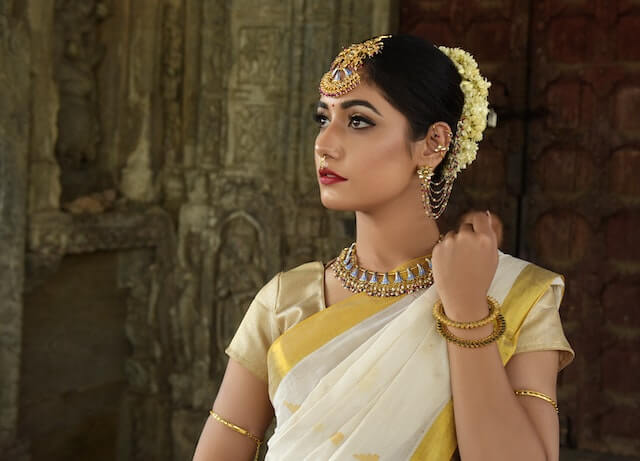 Choose this outfit, which is finished off in a beautiful tone of gold throughout, if glamour is your thing. In a bright gold saree enhanced with substantial and ornate gold jewelry, you'll look like an absolute diva and will amaze everyone with your presence. To make the most of this south Indian makeup look with cosmetics, emphasize just one face feature while underplaying the others. Your glow will be offset unlike any other by coral-toned lips and golden shimmer eyeshadow. We guarantee that no one will fast forget your bridal look thanks to this style.
Rock the Royal Look
The most significant day of your life is your wedding, therefore if you want to feel like a queen on that big day, rock the royal style with some elaborately decorated, vibrant, jewel-toned Kanjeevaram and Temple jewelry. Choose a bold shade for your drapes, such as red, blue, green, gold, or pink, and complete the south Indian makeup look or bridal look with a choker and Maharani haars to give it a vintage feel.
The appropriate hairdo for this royal appearance is a lengthy braid embellished with diamonds and flowers or a conventional flower-filled bun. To make your lips stand out with this look, select vibrant hues like red or orange. Don't forget to accentuate your eyes with kohl to finish the appearance.
Resplendent in Red
The color red is unmatched in its ability to highlight a bride's beauty, and you can never go wrong with this rich, bright look because it improves every bride's appearance. Choose a deep crimson hue for your drapery, and add gold accents and flowers to complete the look. If you prefer a more understated appearance, delicate jewelry and face-highlighting makeup work wonder to enhance your beauty without being overbearing.
Apply black kohl and winged liner to your eyes for a south Indian makeup look to make them stand out as bold and gorgeous. The color red is a recurring motif in this fashion, so wear red blush and lipstick to go with your saree. Your best option for finishing the look and making you appear like the charming and blushing bride everyone becomes awestruck by is a long braid decorated with thin jasmine garlands.
What color do South Indian brides wear?
Kasavu, a traditional Kerala saree, is worn by a Malayali bride and south Indian brides as attire. While some south Indian brides like to flaunt their neutral look with color, choose to wear a pure white saree with a golden border that makes you look simple and beautiful. The other hues worn by the brides are typically vivid and exquisite hues like crimson, lavender, and so on.
These bridal beauty ideas may appear simple, but it takes a lot of time, effort, and cosmetics to look beautiful and natural. Every single bride must put in hours to achieve this gorgeous look. South Indian makeup look is so natural-looking that it doesn't feel like it's on your skin, which is why it has inspired many brides.
How do you do your Eye Makeup Looks?
6 Steps on Smokey eye makeup Looks
Simple Eye makeup for Party Looks
How To Nail Your Evening Makeup Look?
Cat Eye Makeup: How to Do this?
How To Do "No-Makeup" Makeup Look?