Beer root is natural fruit we can say which is use for multiple purposes in our life. It's rich source of vitamins, minerals and other essential proteins are good for our health. We can take it in our first diet and in beauty purposes as well.
Beet root has dark color shade which is used in food coloring as well. We can easily dye hair with the beetroot. It's beneficial properties make unique and useful. Its natural ingredient which do not harm in any condition .
How to Dye Hair With The Beetroot?
When it comes to dyeing hair with beetroot, it's something that everyone don't know about it. Yes we can dye our hair with beetroot. It's natural pigments present inside it's juice is great for a temporary coloring. Which change hair color like reddish or purple.
It's on low cost, less time, no side effects and natural process to undergo. One ingredient which just make it your hair look different then before.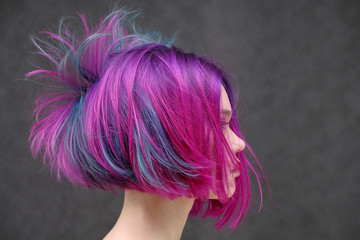 Step 1: Take Beetroot
You have to take beetroots on the amount that your hair can be dye. Firstly know that the portion of your hair that the color is going to apply. according to that you need beetroot to be used for that ,if it less or more it will be wasted and cannot be used if it is less be careful for this thing whenever you dye your hair with natural process .
Step 2: Wash Hair
Wash your hair with your daily shampoo and let it dry before you apply the dye in your hair. Clean your hair so that it can be easier to go through this process .
Step 3: Extract Juice From Beetroot
Extract the juice from the beetroot root by using blender.
Firstly cut the beetroot into small slices and blend it properly into the blender.
Note: You can boil the beetroot so that it get soften and easily blended.
After blending, Put juice into a container or bowl.
Mix some carrier oil into it. Carrier oil is kind of oil which has essential properties in hair growth like coconut oil or olive oil.
Mix the oil with the beetroot juice properly ,oil will help the juice to fix into the hair and show the effects of colors and coconut oil, olive oil or vegetable oil function great in dyes .
Step 4: Use Gloves and Apply Beetroot
Before apply the beetroot dye, mask to your hair use gloves to protect your hand it can stick to your hands and use comb to separate the hair portion to apply the colors from the root of the hair, apply all over your hair or the little portion as you want and leave it packing your hair with foil paper for half an hour and check it once and it has not work leave it for more few minutes and wash your hair and you can see your hair to new attractive colors and enjoy .
This is a natural hair dye process. You can use this process twice in a year. It's temporary too and not harmful. We can also do other beauty hacks with food which are easily available on our kitchen.