Don't know how many makeup brushes do you need? What are the best makeup brushes to buy for you? Which makeup brushes do you use where?
May be so many confusion arises in your mind.
But, You don't need to be worried today we will help you to clear all of your confusion with the essential list of makeup brushes and their uses.
Makeup brushes are crazy important while doing makeup if you want a flawless, airbrushed look. There are so many essential makeup brushes that you can use. But it's important to know which makeup brushes to use and for what.
Must Have Makeup Brushes Essentials
There are different types of makeup brushes that you can use in your daily life.
Foundation Brush
Your makeup routine should embark with a fair base of foundation. It will be difficult to use a liquid foundation without the proper brush.
We have two different kinds of foundation brushes, one of which acts like a paintbrush whereas another has a flat top.
Both brushes are very useful for getting a flawless finish with your foundation.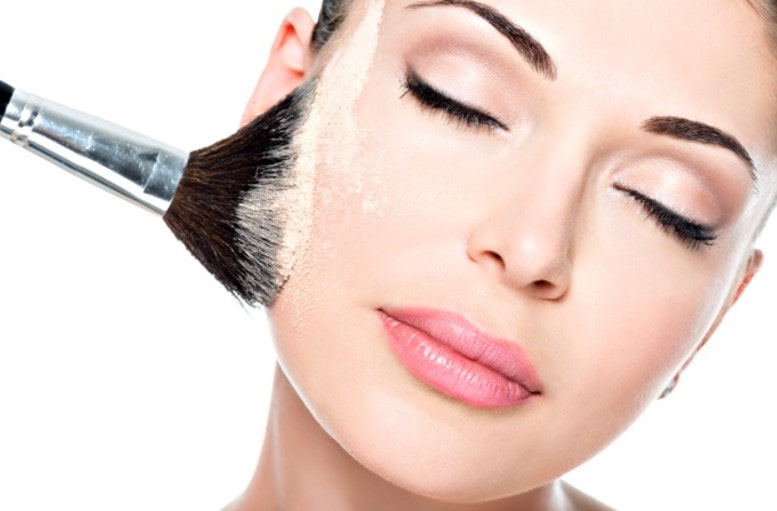 A better foundation brush will have straight, flexible bristles that you can use to apply your foundation to your face. While applying the foundation, you can start by dotting the product on your forehead, cheeks, nose, and chin, and then you can use the brush to blend it over your entire face.
Stippling Brush
Stippling brush helps to create a flawless, airbrushed base with high definition results. It can also be used to apply foundation, blush, bronzer, powder, and highlighters to your face.
It will be also effective if you apply liquid and cream products.
In order to use Stripping Brush, you have to apply the product at the top of the bristles, and then work it into the skin in circular motions
Concealer Brush
After you apply the foundation to your face, you can use a concealer to cover any imperfection and brighten up dull areas on your face.
A concealer brush essentially looks like a small version of a foundation brush. While using concealer brushes, you can apply a small amount of product to the desired area, and then press lightly onto your skin until it blends with your foundation.
You can do this using a small amount until you have covered the desired imperfection, whether they be dark spots or something else.
Powder Brush
After applying your base, you can set everything with a layer of loose powder using a powder brush. This powder will help your makeup stay in place throughout the day and provide you a more flawless look.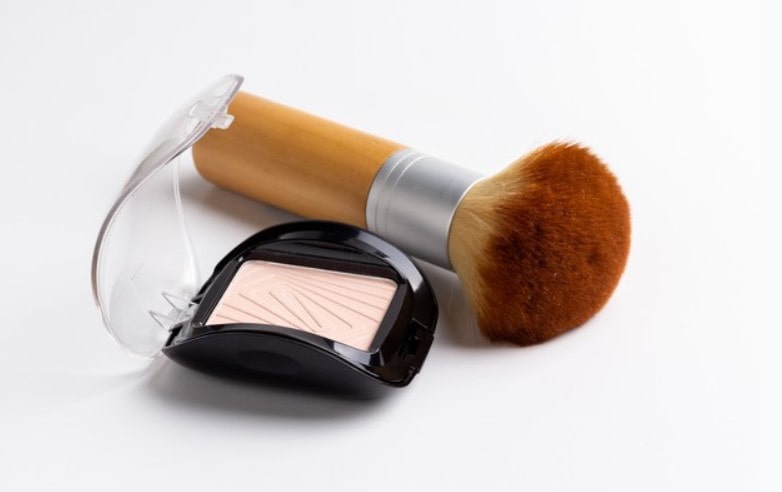 A powder brush is very large and fluffy and it also has a domed shape to evenly disperse the product over the face.
Blush Brush
If you don't use the correct brush when applying the product to your face, then the result will look very unnatural.
A good blush brush has the same fluffy design as a powder brush, but it is smaller to fit on your cheeks.
While applying blush, it's always best to start with a small amount and keep blending as this will create the most natural look.
Contour Brush
Contouring is the best way to give your face a natural look, but you need the best brush in order to do it.
No doubt that there are many different types of makeup brushes that can be used for contouring but ideally you should buy a brush that is specifically designed for contouring instead of using a foundation brush. To use contouring in your face, you have to apply the contour to the hollows of your cheeks, and then use a stippling motion to work it into the skin.
Bronzer Brush
Bronzer is a great way to get a sunkissed, glowy look on your face without spending time in the sun. A bronzer brush is similar in shape to a powder brush but it is very wide and even more fluffy than a powder brush.
Bronzer needs to be dispersed very evenly on your skin in order to look natural. To apply bronzer in a better way, you have to dip the brush in a small amount of the product, and then apply it to your temples, the hollows of your cheeks, and also in your jawline, making a '3' shape.
After you have blended that in your face, take whatever left on the brush and apply it over your forehead and nose very gently.
This technique definitely helps you to create a natural look.
Highlight Brush
The highlighter is very trendy nowadays so yes this is a great brush to add to your makeup brush collection.
The look of the highlight brush is very different from most other types of makeup brushes because they are shaped like a fan with thin bristles.
This fan shape allows you to apply the glowy product to the top of your cheekbones.
You can use it by gently picking up a small amount of the product with the brush and sweep it back and forth over the top of your cheekbones.
You can also apply highlight to the tip of your nose for an extra glowy look.
Eyeshadow Brush
To create an amazing eyeshadow look, you will need several different types of makeup brushes which are specifically designed for eyeshadow.
These eyeshadow brushes are much smaller and denser than the face brushes.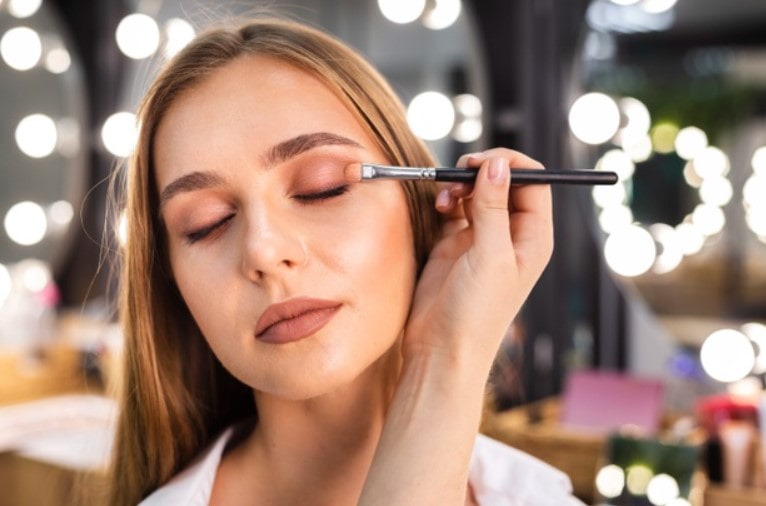 Lid brush is one of the eyeshadow brushes which is used to apply eyeshadow to the top of your lids. This brush is very compact and also is shaped like a foundation brush, but the bristles are much denser.
For better results, you can use a brush to pat the shadow onto your lids, applying multiple layers if necessary.
Eyeshadow Crease Brush
You can use this brush for applying eyeshadow to the crease of your eyelids.
The shape of the eyeshadow crease brush is very dense and has a pointed or angled composition. It is used when applying crease color in order to create your desired look, particularly if you are aiming for a smokey eye or other amazing styles.
First, start by putting a small amount of your desired crease color in the crease of your eyelids.
Eyeliner Brush
Eyeliner brush is also one of the most essential sharp liner brush which helps you to get an ultra-precise cat-eye shape
Definitely, you can achieve a good smokey eye with a pencil liner, but it's really hard to get a clear, defined wing shape without using a liner brush.
In order to use a liner brush, first start by dipping the brush in the liner after you have completed your eyeshadow. Then use as much control as you can, move the liner to create your desired line.
Final Thoughts: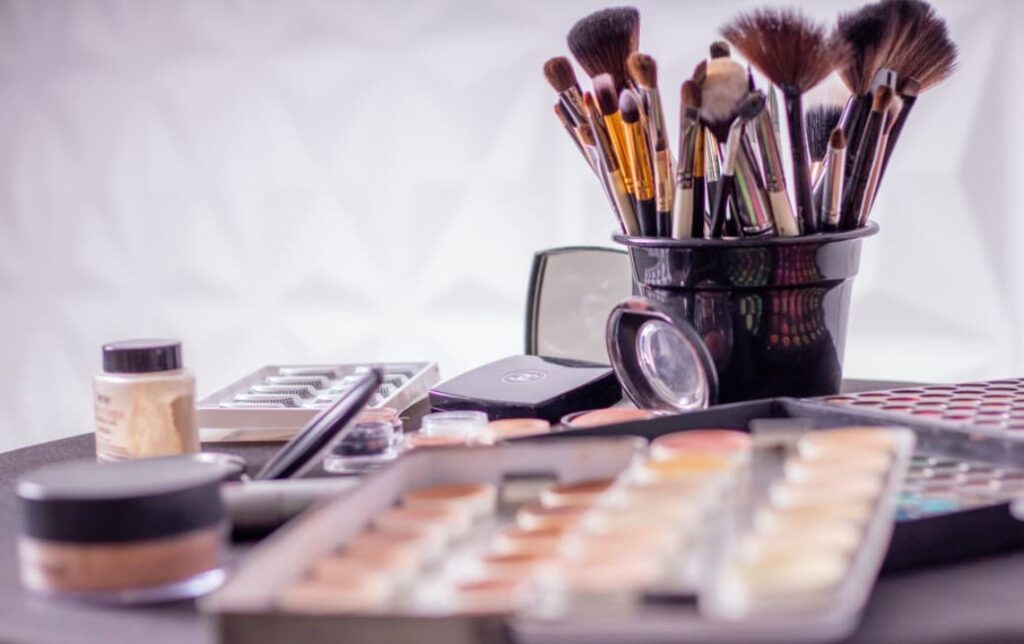 This essential collection of different types of makeup brushes will definitely help you to create the makeup looks you want.
There are many benefits to using makeup brushes instead of using your fingers or plastic applicator to apply your makeup on your face. Not only that it also helps you to take less time to complete your makeup routine. It is also more sanitary, as brushes are easier to clean than other plastic applicators.
And yes don't forget to wash your brushes regularly.