Face masks are the only thing that could actually feed the required and essential nutrients to maintain the health of the skin. Likewise, a strawberry face mask is a super fruit that not only helps to keep your body hydrated but also helps to nourishes your skin. 
Strawberry is a powerhouse of antioxidants with loads of vitamin C. It is generally rich in fiber, vitamins, proteins, calories, and a high level of water. These essential nutrients and properties are the way to keep our skin hydrated. People having wrinkles, fine lines, dull, dead skin cells, and damaged skin can probably improve their condition by the application of the strawberry face mask.
Here we have some DIY strawberry face masks to maintain the complexion of your skin. The amazing benefits of using strawberries as a face pack are also described below in this article. Just cooperate with us and learn about the beneficial facts about strawberries.
How to Make a Strawberry face mask?
So, there is so many face mask tried by all of us, it may be cosmetic face pack or homemade natural face pack. Sometimes we need to try some extra to maintain our skin extraordinarily. The DIY strawberry face mask combined with other natural ingredients will definitely help your skin to improve.
Honey and Strawberry Face Mask
This face mask especially helps to treat the acne, impurities, and scars that appear on your skin with the antioxidant property in the ingredients.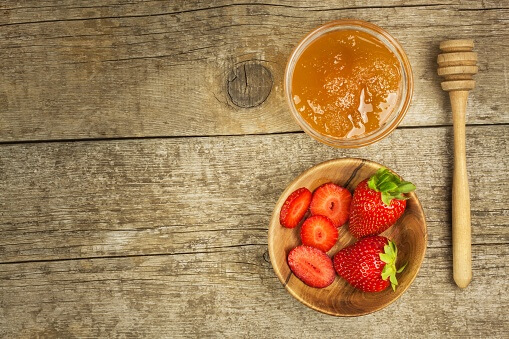 What we need:
Strawberries
Honey
Lemon juice
How to Use:
Firstly smash a strawberry with a fork or you can just blend it in a food processor.
Then, add 1 tablespoon of honey and lemon juice to the bowl of a mashed strawberry.
And mix them properly until the smooth paste forms.
After that, use a clean brush to apply the face mask on your face.
Apply the paste all over the face avoiding the eyes area.
Then, keep the face pack on for 15-20 minutes.
Later on, wash your face with clean water and pat your skin dry with a face towel.
And follow up your regular toner or moisturizer.
Yogurt and Strawberry Face Mask
Strawberries and yogurt, both are supernatural ingredients have loads of vitamin C, hydroxy acid, and lactic acid that can really exfoliate, moisturize, and brighten your skin. Your skin will be getting rid of dry and flaky skin.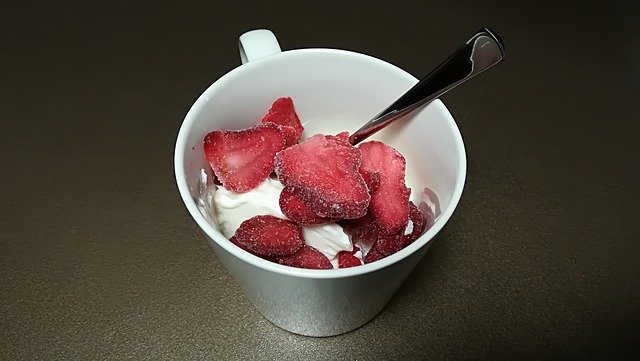 What we need:
Yogurt or Heavy Cream
Strawberries
How to Use:
Take the required amount of strawberries and blend it in a smooth paste.
Add 1 tablespoon of yogurt for oily skin and 1 tablespoon of heavy cream for dry skin.
Then apply the mixture all over your face avoiding the eyes area.
Use your fingers or a clean sanitized brush to apply the pack.
Let it sit on at least for 20 minutes.
Then, rinse off the mask using water and pat your skin dry.
At last, you can moisturizer your skin with a moisturizer.
Benefits of Using Strawberry Face Mask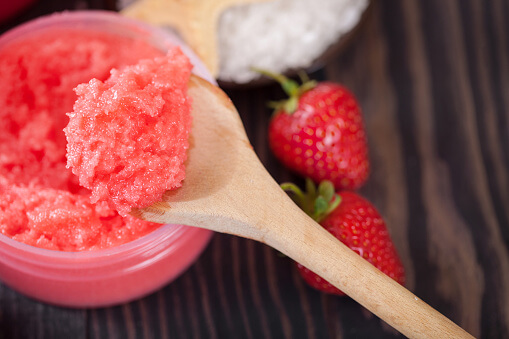 Prevent Acne
The inflammation effect caused by the excess accumulation of sebum can be cleared off by the use of strawberries on your face. The acidic properties in strawberries reduce the excess oil and remove the appearance of small bumps, acne, and blemishes.
Get Rid of Oily Skin
Basically, strawberries contain vitamin C, salicylic acid, aspartic acid, and many other essential nutrients that help to remove out unwanted and excess oil from your skin. It helps to control the oil production of sebum that could actually stimulate healthy skin. The face mask helps to fight against the oily skin and nourish them.
Anti-aging
Strawberries carry ellagic acid, folate, and fiber which prevent collagen destructions. Collagen destruction is one of the major causes of wrinkles and aging skin. This face mask helps to protect your skin from fast aging, wrinkles, fine lines, and skin elasticity due to the lack of care and promotes supple, smooth, and tight skin.
Skin Whitening
Due to the acne scars, free radicals, blemishes, and suntan our skin look soo dull and dirty. The pollutants and the dirt cause blackheads and dark patches that are difficult to remove easily. A strawberry face mask helps to remove out all of the blackheads, impurities, dark spots and helps to lighten up our skin. It helps to get instant glowing skin.
Is strawberry good for dry skin?
A strawberry is full of astringent, anti-inflammatory, and anti-oxidants properties that are very beneficial for skin improvement. Strawberry face mask also carries hydroxylic acid that is very-very good to treat dry and flaky skin. The nutrients help to remove the dead skin cells and free radicals from your skin. It actually helps to moisturize your skin after 5-6 times of use.
How do you whiten your teeth with strawberries?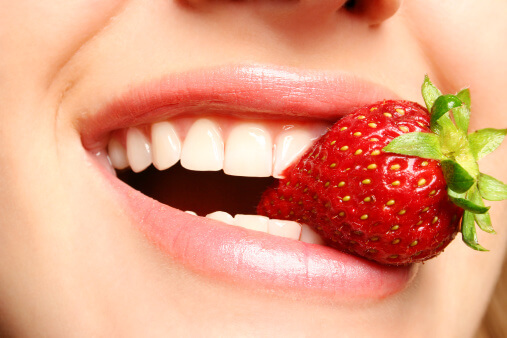 The tooth-whitening enzyme of malic acid is present in the strawberries. Wondering how to whiten your teeth with strawberries? Just smash a strawberry in a blender and add ½ teaspoon of baking soda in it. Mix the ingredient well and apply the mixture all over your teeth. Keep them for 5 minutes and later on brush your teeth with your regular toothpaste to remove out the mixture.
Strawberries rarely found in all seasons. It is mostly grown in late spring to early summer. But we can found strawberries in every store near to your home. This strawberry face mask could help to remove the inflammation effects and brighten your skin tone. You just need to follow the mask every twice a week to get the best result.
Amazing Saffron Benefits For Skin
How To Do "No-Makeup" Makeup Look?
6 Ways to Avoid Pimples From your Skin
Egg White and Tissue Mask: How to make Egg White Face Mask at Home