The secret to a healthy skin texture might be in the kitchen room. Tried every cosmetic or departmental product on your skin and hair to maintain them in a good condition and also got the best result out of it. And now it's time to explore kitchen products for the skin.
Generally, we might have used every essential product that could be beneficial for the complexion but may not make it up to apple cider vinegar. Apple cider vinegar for skin is the best choice as it can bring immediate changes to your skin texture and complexion. The usage of the best apple cider vinegar for skin will make brighter, clearer skin, and even works as per your skin type.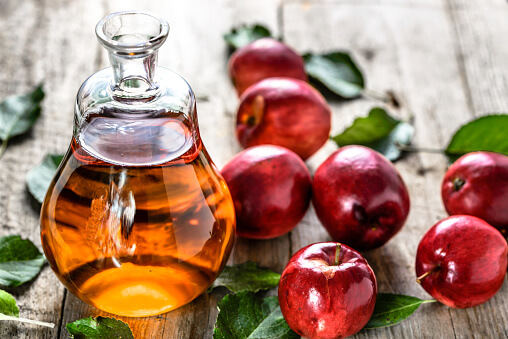 In simple words, apple cider vinegar has become a favorite of natural skincare. It has several skin care benefits and may also work to improve hair conditions. We have done many weirdest things in the name of beauty so why not this? This fermented liquid is considered a great thing to explore for beauty purposes.
Is Apple Cider Vinegar Good for Skin?
Apple cider vinegar is the good and safest product for your skin if it is used in the correct form. Apple cider vinegar for skin contains anti-inflammatory properties, acetic acid, and alpha-hydroxy acids that improve the skin texture and complexion. It helps to maintain the hyperpigmentation of the skin and even works to reduce inflammatory effects on the surface of the skin.
Apple cider vinegar for skin is good for the exfoliation of the face as it removes out the pores, dirt, blackheads, and free radicals. Not only exfoliation but also has the power to restore skin's pH levels. It helps to reduce the excess oil of the skin and also provides enough moisture to dry and dull skin. As we said that it has several skincare benefits, it maintains the skin layer healthy, soft, clear, and glowy skin.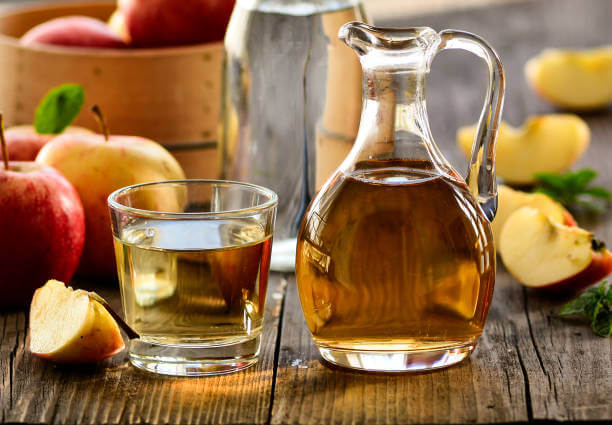 What does apple cider vinegar do for your skin?
Apple cider vinegar carries several effective properties and nutrients that really work to keep the skin healthy.
Natural toner
Apple cider vinegar for skin is a natural toner as it is a fragmented liquid that can be directly used as a toner after mixing with water. ACV can easily balance the skin's pH level that maintains the outer layer of the skin. Also, it prevents skin breakout and keeps your skin functioning ideally.
Exfoliator
Apple cider vinegar for skin actually an exfoliator. The presence of malic acid which is similar to alpha hydroxy acid has the ability to deep exfoliate your skin and remove out the clogged pores and eliminate bacteria.
Fight against inflammation
Apple cider vinegar for skin controls the sebum oil production and reduces acne. It prevents the bacteria that actually causes small bumps and pimples. The anti-inflammatory properties really fight against the inflammatory effects on the skin.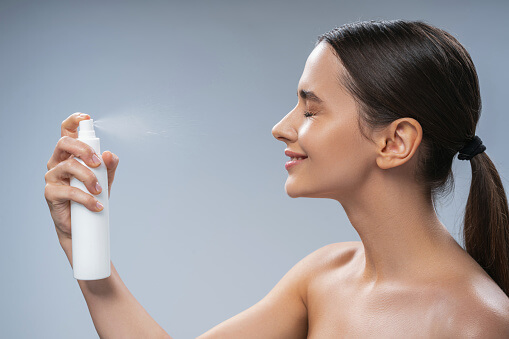 Lighten Hyperpigmentation
Alpha hydroxy acid is considered for its ability to minimize the production of melanin on the skin surface. The hyperpigmentation, dark patches, dark spots, and free radicals present on the skin can be eliminated by the usage of apple cider vinegar.
Boost circulation
The presence of malic acid and anti-bacterial acids in ACV helps to boost blood circulation and stimulates the pH level balance. It maintains the skin texture and complexion by the stimulation of circulation and keeps the skin healthy and smooth.
Keeps skin refresh
Drinking a glass of ACV mixing with water is healthy not only for the skin but also for your body. Even applying apple cider vinegar for skin keeps your skin refresh and hydrated throughout the day.
How to use apple cider vinegar for skin?
The regular usage of apple cider vinegar for skin (ACV) as a treatment for various ailments is being practiced for a long time. Apple cider vinegar as a face mask, toner, serum, whatever you want to make it from ACV will be effective anyway.
ACV as toner
Ingredients: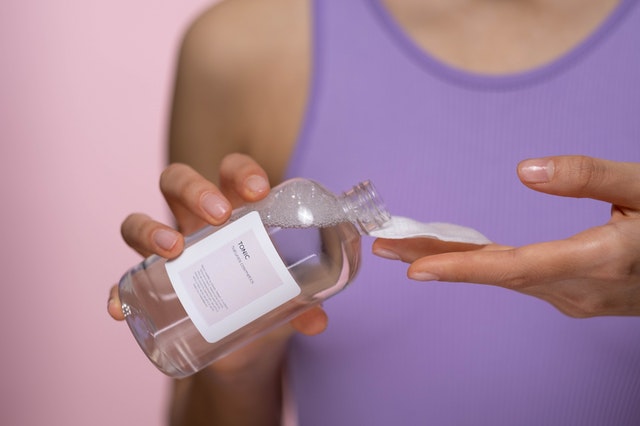 Apple cider vinegar
Water
Rosewater
Lavender oil
Witch hazel (for oily skin)
How to prepare:
Adding 1 glass of water to 2 tablespoons of apple cider vinegar would be best. Then, add 1 tablespoon of rosewater, 3-4 drops of essential lavender oil, and 1 teaspoon of witch hazel only for oily skin. Mix all the ingredients together.
Note: For sensitive and dry skin, avoid using witch hazel and also limit the usage of ACV instead of 2 tablespoons, only use 1 tablespoon of dry and sensitive skin.
How to use:
After the completion of preparation, transfer the natural homemade toner into a toner bottle. While using them, spray the toner all over the clean face and store them in a refrigerator.
ACV as Face Mask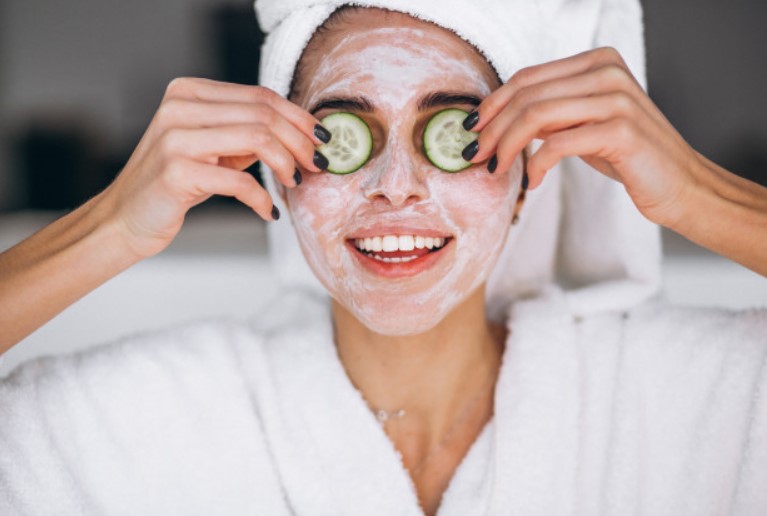 Ingredients:
Honey
Apple cider vinegar
Baking soda
Water
How to prepare:
Taking 1 full tablespoon of honey and 2 tablespoons of baking soda and 1 teaspoon of ACV and add all of them to a bowl. Then, add water until the ingredients form a smooth paste. Mix all the ingredients together smoothly.
Note: This face mask could only be beneficial for acne-prone skin, oily skin, and combination skin. It will not be suitable for dry or sensitive skin so avoid using it.
How to use:
After making a smooth paste, apply the face mask all over the face and neck with a clean brush or with your fingertips. Apply the mask in the thin layer so that it will work properly. After drying the mask, rinse your face and apply your regular moisturizer.
How often should use apple cider vinegar for the face?
Apple cider vinegar for skin as a toner and as a face mask is really good to use. Using toner 3 days a week will be great for the improvement of the complexion and texture. And also using an apple cider face mask twice a week is amazing to treat your skin. They will help you to get the skin you have always craved for.
The very best way to treat the skin especially oily and acne-prone skin by following the instruction of apple cider vinegar for skin. The hard work and focus to maintain the complexion will actually make you get what you always want.
Homemade Facial Toner for Glowing and Radiant Skin
7 Best Face Toner for Dry Skin | Skin Care
6 Ways to Avoid Pimples From your Skin
What do rosewater and glycerine for face do?