Makeup trends may come and go, but what remains forever is lipstick! No matter what kind of makeup you are walking with, either it's a no-makeup makeup look or a heavy party look, lipstick is the final thing that helps to complete that glamorous look!
Matte lipstick is definitely the game changer in any makeup look, and for a good reason. Matte lipstick is of course the best lipstick ever to wear, as it is super easy to apply, helps to create a plump-fuller- lip look, and most importantly does not transfer or bleed easily like other lipsticks.
But, the toughest thing about applying matte lipstick is it doesn't go away as easily as other makeup products! It may be a quite difficult task to remove matte lipstick for many of us, so if you are one of them, then this article is for you to discuss how you can easily remove a matte lipstick while removing your makeup from your face.
How To Remove Matte Lipstick?
You may spend a lot to buy a good quality matte lipstick that stays for at least 12 hours. But, after a long tiring day, when you want to take off your makeup completely and give your skin some rest, you may face a problem removing matte lipstick from your lips.
Not only this, but sometimes you also want to change the lip color after applying a completely different shade in the morning. And, trying to change your shade may create an absolute mess. So, below are some tips to avoid that mess and remove matte lipstick off without drying your lips.
What Do You Need?
Cream or an-oil based cleanser
Q-tips or cotton pads
Also Read: Lips Lightening: Easy Tips and Tricks
How To Remove?
Once you are ready with the cleanser and the Q-tip, you can take a Q-tip and dip it into the cleanser, apply the tip gently on your lips, and let it sit for a few minutes.
Now, to wipe out the cleanser, use the other side of the Q-tip and wipe off your lipstick.
We recommend using Q-tip to remove matte lipstick because they do not spread the color around the lips or any other part of your face.
You can repeat the same process 2-3 times(until your lipstick is totally gone.)
This method not only helps in removing the lipstick but also acts as an exfoliator and removes the dead skin cells from the lips leaving a smooth texture.
Simple Tips To Remove Lipstick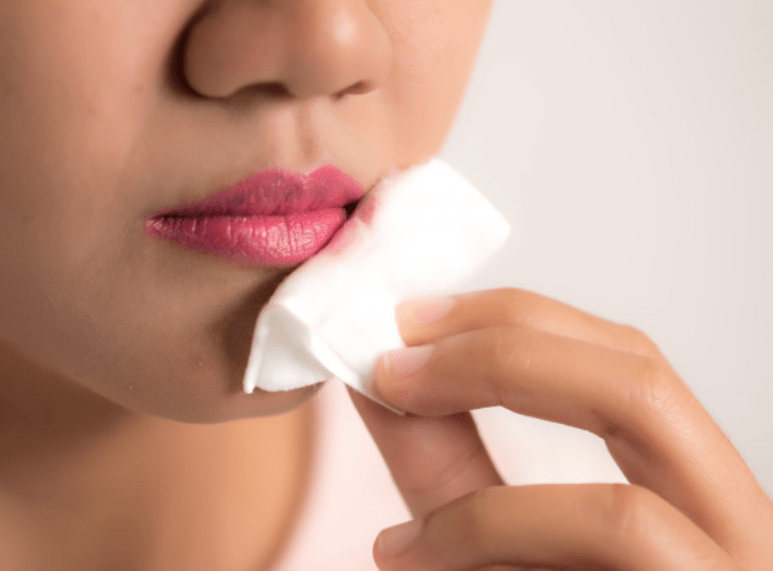 If you are not so comfortable with using a cleanser on your lips, you can also use petroleum jelly for the task. Wash the petroleum jelly with a warm washcloth after a few minutes of application.
You can also try using coconut oil or olive oil to remove the extremely stubborn lipstick. Using these oils also helps to nourish your lips.
Sometimes, cream or cleanser may not work to completely remove your matte lipstick, so you might need to use micellar water to remove the remaining stains from your lips. Micellar water can add hydration to your lips.
Exfoliate your lips with the help of your toothbrush and to remove the leftover lipstick residue. Always end this process with a hydrating lip balm.
The easiest way to remove matte lipstick is by applying a thin layer of lip balm before applying any matte lipstick. This helps to keep your lips smooth and hydrated throughout the day.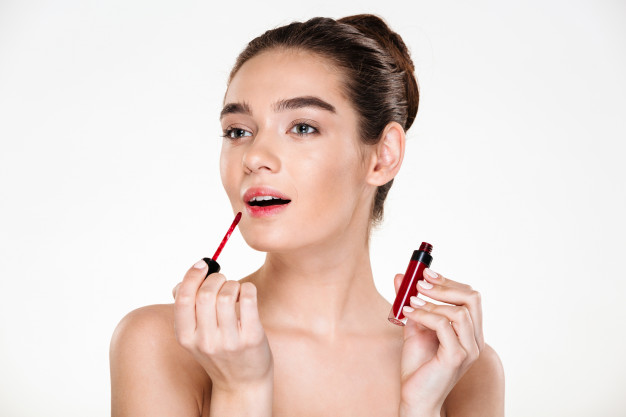 Removing a matte lipstick is hard sometimes, but this is definitely not the reason to give up on a matte lipstick. A little effort with right techniques and products can make it easy to remove matte lipstick. Also, these simple tips helps to keep your lips healthy and nourished.
So, were yo doing this right? Have you ever used similar techniques to remove matte lipsticks? Let us know in the comments!
More Topics For You
Makeup Mistakes Every Bride Should Avoid
What Should I Have In My Makeup Bag?- Winter Edition
How To Pop A Pimple In a Simple Way?